Shared Story. Shared Impact.
Pharmacists helped build Surescripts. Our origin story starts back in 2001, when the National Association of Chain Drug Stores and the National Community Pharmacists Association formed SureScript Systems to replace paper prescriptions with more accurate and efficient e-prescribing.
Our origins hardwired us with an intense focus on our pharmacy partners' costs and needs. Pharmacy leaders sit on our board of directors, and our team remains deeply engaged with pharmacies across the nation.
---
Today, we're continuing to help pharmacies evolve by giving them new ways to engage patients and by making dispensing more accurate and efficient.
When pharmacies join the Surescripts Network Alliance™, they gain the connections and the actionable patient intelligence pharmacists need to take their rightful place on the care team. By enabling prescriber access to medication data, they also advance interoperability and improve patient care across the nation.
---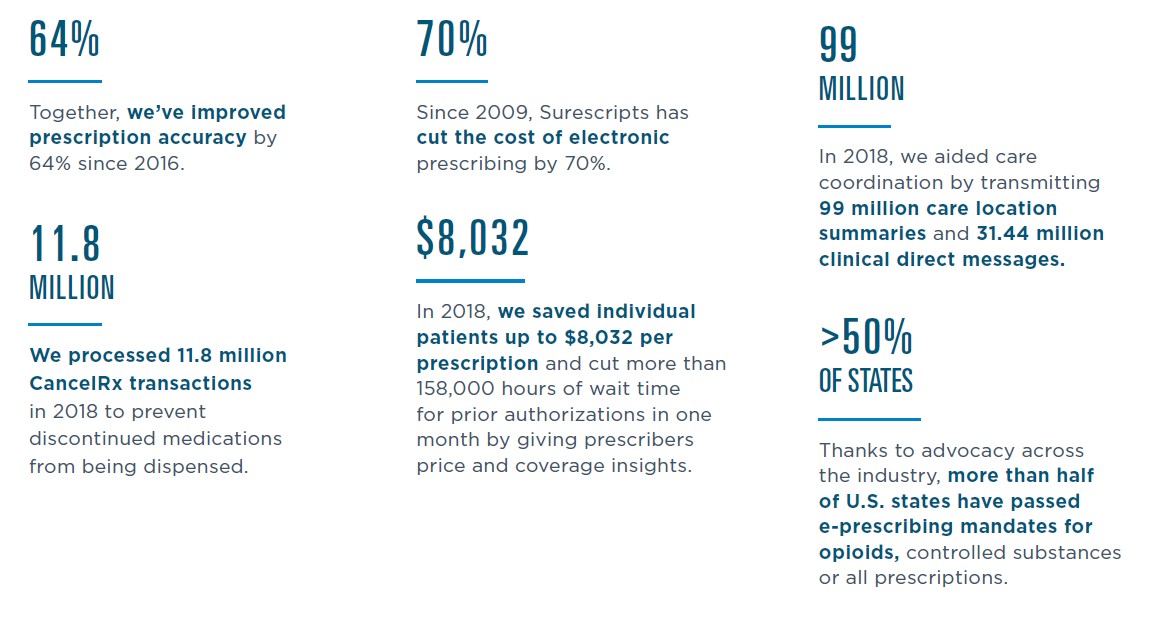 ---
Together, we're increasing patient safety, lowering costs and ensuring quality care.
For many years, the industry's focus was on moving prescriptions efficiently, safely and reliably. In 2016, Surescripts introduced the Critical Performance Improvement program to bring together hundreds of individuals representing EHR vendors, pharmacies, pharmacy benefit managers, health systems and drug compendia to improve patient care by enhancing e-prescribing accuracy and efficiency.
The Surescripts White Coat Award recognizes the accomplishments our customers are making in improving prescription accuracy and rewards leaders who have adopted best practices and technology enhancements to achieve top results.
We're aided in pinpointing areas for improvement and analyzing e-prescribing trends by Surescripts Sentinel®, which monitors the accuracy of all electronic prescriptions sent across the Surescripts network.
When we work together to continually improve accuracy and efficiency, more prescriptions arrive at the pharmacy ready to fill.
---

Actionable Patient Intelligence Transforms the Prescription Workflow
Pharmacies that use Surescripts solutions gain the power to enhance prescribing and inform care decisions for everyone they serve.
Enhance Prescribing
E-Prescribing transmits prescription messages between the prescriber and pharmacy. Improved workflows and communications give pharmacies the tools to boost efficiency, patient safety and medication adherence.
Eligibility draws on Surescripts patient matching technology to let pharmacists check patient eligibility even when the patient is not able to present their benefit card.
Real-Time Prescription Benefit displays accurate, patient-specific information on:
Cost and coverage information for up to five therapeutic alternatives
Coverage alerts for age and quantity limits, step therapy or prior authorization
The patient's out-of-pocket cost and deductible
Real-Time Prescription Benefit is available to both prescribers and pharmacists, so you may find that an increasing number of your patients arrive having reviewed this information with their doctors, who have already had the chance to optimize their prescription. But if not, pharmacists can now get full insight into the patient's medication benefit and options via the neutral Surescripts network, without leaving the fulfillment workflow.
It's a quick, easy way to identify substantial cost savings for patients and avoid the typical administrative burden of investigating pricing options, coverage idiosyncrasies and alternatives when patients are not happy with the prescribed option.
RxChange transactions eliminate hours on the phone with provider offices by enabling pharmacists to request a change, clarification or prior authorization from the prescriber electronically when:
A therapeutic alternative is identified
A generic substitute is identified
The prescriber needs to initiate prior authorization
The drug use needs to be evaluated or the prescription needs clarification
The prescription is out of stock
When prescribers send an RxChange response, pharmacists will be notified within their workflow. And if the prescriber receives an RxChange for Prior Authorization request and completes the prior authorization through a Surescripts solution, the pharmacist will always receive a disposition.
Whenever a prescriber needs to take action for your team to fulfill a prescription, RxChange provides a seamless way to communicate.
Inform Care Decisions
Clinical Direct Messaging is a simple, secure, standards based way for pharmacists to exchange health information with more healthcare professionals than any other service. Smart messaging lets pharmacists efficiently sort and handle time-sensitive communications, including refills, change requests and questions from other providers.
From medication management to collaborative practice agreements to addressing controlled substance abuse, Clinical Direct Messaging enables rapid care collaboration.
Medication History gives prescribers a comprehensive view of the medications a patient has received. When pharmacies share their medication data via Surescripts, they make an enormous contribution to healthcare safety, quality and efficiency, whether they're collaborating to improve Star Ratings or helping prescribers spot patients at risk for opioid abuse.
Record Locator & Exchange lets healthcare providers quickly see where patients have received care and locates medical records in every state. Pharmacies enhance the power of Record Locator & Exchange by giving Surescripts permissions to use the fill files they send to identify locations of care. This allows clinicians to identify and contact other providers a patient has seen, even if they aren't connected to a health information exchange.
Let's discuss how Surescripts solutions can work for you.